Topsail Beach Linens Homeowners Incentive Program
It pays to be a homeowner with Topsail Beach Linens!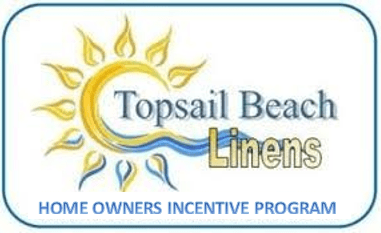 If you are a homeowner and are thinking about how you can provide linens for your tenants, you have come to the right place.
Topsail Beach Linens not only cares for vacationers who come to vacation on Topsail Island but also cares for the homeowners who rent their homes to vacationers.
ONCE YOU PARTNER WITH TOPSAIL BEACH LINENS, YOU WILL RECEIVE BENEFITS THAT YOU CAN GIVE OUT  TO YOUR TENANTS!